So, how is 1st Team Hosting different? Well, for a start, we dont just provide web hosting - we tailor our hosting to your needs. We create hosting packages targeted at specific users.

Yes, of course we provide standard, simple, no frills web hosting as well. But, what we try to do is tailor our products to specific needs. For example; our newest packages are aimed at schools and colleges - we saw a need for a classroom hosting account, where the tutor could run the main domain and provide sub-domains for his students to create fully functional websites while they learn the technology.

Our other planned hosting packages are designed to provide tailor made hosting for Internet Marketer's, blog hosters, etc..

We feel that this approach sets us apart from the average hosting company. And, with server centres in the USA and UK with 99.9% Uptime, your web operation will run smoothly for your users.

Why not give us a try? Choose a low cost option and upgrade when you need to .. simples!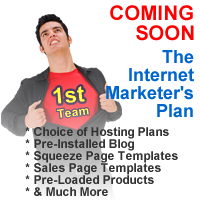 1GB of Storage Space
5GB monthly bandwidth
5 Sub-Domains
10 Email Addresses
Fantastico Auto Intaller
Quick Install Auto Installer
Site Builder
Instant Setup
cPanel & much More


3GB of Storage Space
15GB monthly bandwidth
15 Sub-Domains
Unlimited Email Addresses
Fantastico Auto Intaller
Quick Install Auto Installer
Site Builder
Instant Setup
cPanel & much More


5GB of Storage Space
25GB monthly bandwidth
25 Sub-Domains
Unlimited Email Addresses
Fantastico Auto Intaller
Quick Install Auto Installer
Site Builder
Instant Setup
cPanel & much More